Maingod: adkondanathar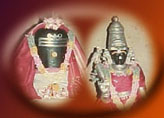 Deities:
Moolavar:             Aatkondanathar

Amman/Thayar:     Sivapuranthevi
Location:
Nagara Viduthi, Ianikkovil
Ianiyur
Sivaganga District, Tamil nadu 63020
Festivals: 
Maha Shivrathri in February-March
Karthikai Champaka Sashti and Tirukarthikai in November-December
Margazhi Tiruvadhirai in December-January

Masi Magam star day in February-March.
Maha Kumbabhisegams were performed during the years 1928, 1944, 1990 & 2007.
Maha Kumbabhisegam was forformed for all the three temples on the same day during 2007, .
Sri Atkondanathar-Sivapuranthevi Thirukkovil

Sri Neelamega Perumal-Kanagavalli Thayar Thirukkovil

Sri Badrakaliamman Thirukkovil
Workship timing: 
The temple is open from 6.00 a.m. to 12.00 a.m. and from 4.30 p.m. to 7.30 p.m.
Pooja Timings
daily five kala Poojas are conducted
Nagara Vidhuthi Ph no.04577-265645
Mani Gurukkal Phone no. 9842480309
Temple: 
Lord Aatkonda Nathar is a swayambumurthy.  The temple has the wonderful structure facilitating darshan of the deity and also the Vimana simultaneously from the front mandap.  Due to the presense of KALASAMHARAMOORTHY, People celebrate their 60th and 80th birth days here.   Special abisheks are performed to Lord on Masi Magam star day in February-March.
Mother Shivapurandevi graces the devotees with two hands only facing south.  When Lord Vishnu took the Narasimha incarnation in a furious form, Ambica, sister of Lord Vishnu also became furious which reflected at nine spots in pillars in the mandap in front of the shrine, the symptoms visible even now.  There is also an Ashtalakshmi Mandap in the temple.
Lord Bhairava in the shrine near that of Ambica appears with long side teeth with His dog vahan turning left.  Karthika Champaka Sashti festival is dedicated to Him in November-December.  He graces from the sanctum sanctorum for six days during this festival and taken in a palanquin procession.  Students pray to Lord Bhairava for achieving high ranks in studies.  Lord Dakshinamurthi graces in the goshta mandap shouldered by 4 lions.
Kubera the lord of wealth and Vayu Bhagwan had worshipped in this temple according to the history of the place. Both appear on a Horse Vahan.   There are also shrines for Navagrahas the nine planets and Mother Gajalakshmi.  As this is the place where Lord Shiva helped Lord Vishnu cleansing his His dosha for killing Iraniya, the place is named Iranianur.
Special Features:
Miracle Based: Lord Aatkondanathar is a swayambumurthy. Against the general tradition of Lord Muruga appearing with his consorts Valli and Deivanai together on a peacock Vahan, quite differently, the three grace the devotees separately sitting on their own peacocks. Th presence of Guberar is a speciality of this temple
Eraniyur has the special feature three temples siva, visnu and kali. Worshiping in all the 3 together is a god given gift. The Kali temple is famous among the locals to give good health & Wealth
History: 
Lord Narasimha incurred a dosha for killing demon Hiranya. He worshipped Lord Shiva here for relief. Lord Shiva in the form of swayambumurthy sarabeswarar granted darshan to Lord Narasimha and cleansed Him of His dosha. As requested by Vishnu stayed here in the name of Aatkonda Nathar. He is also praised as Narasimheswarar for the relief He granted to Lord Narasimha
visit.tmpooja.com/info