Main God:
sri Yoga Narasimha  Swamy
Location:
Sri Lakshmi Narasimha Madhwa Seva sangha
No;103-18,Chintalavadi P.O.,                                                                                                              Krishnarayapuram Taluk,                                                                                                                                              Sholinghur ,                                                                                                                                                      Tamilnadu – 639105
Festivals:
Festivals celebrated in Sri Yoga Narasimha Swamy Temple include the Chittirai Brahmotsavam (April – May), Avani Pavitrotsavam (August – September purifying event), Margazhi Padi Utsavam (December – January), Navaratri (Dusshera), Kartikai (November – December), the girivalam on the 2nd 3rd days of Thai and Mukkoti Dwadasi. Worshipping on Thursdays is considered of significance here.
CAR festival is celebrated every year Sri Yoga Narasimha Swamy Temple  in Sholinghur during Sri Narasimha Jayanthi. As you all know this idol was installed by Sri Sri Vyasarajaru which is very powerful and we see devotees from everywhere flock during this annual festival.
Worship Timing:
Sri Yoga Narasimha Swamy Temple remains open between 8 am to 5.30 pm
History:
Sholinghur is a shortened form of its original names viz. Chozhasimhapuram, Chola Lingapuram, Cholasingapuram and finally Sholingapuram until a couple of decades back. Karikaala Cholan, when separating his empire into 48 small districts, named this place as Kadigai Kottam.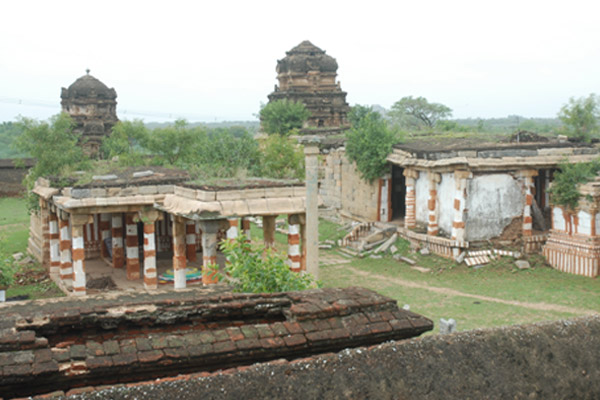 Story associated with the temple goes- Once, there was a king by named Hiranyan (Hiranyakasipu) who by virtue of strong tapas (penance) got the varam (boon) that he could not be killed by any human being, day or night, land or air. He had become a menace to his people and ignored the existence of Indra. In due course, he declared himself as the supreme authority and insisted that people treat him as the supreme god and mention only his name. Indra and other gods requested Lord Vishnu to take care of Hiranyan and he agreed to do so in due course.
When Hiranyan's wife was pregnant, Narada Muni visited her and narrated the essence of Bhakthi and that only Narayana (Lord Vishnu) could save the Universe from the clutches of evil. Her son to be named as Prahladan, heard the praises of the Lord while still in the womb. This made him a staunch devotee of Narayana. Hiranyan tried several times to kill his son as Prahladan was opposed to the mention of his father's name in lieu of the name of Narayana.
Every attempt was a failure as Narayana saved Prahladan. At last, Lord Vishnu took the avatharam of Narasimha to finish Hiranyan. He had the face of a lion (Simham) and the body of a human (Nara). Taking Hiranyan on his lap, he tore him open with his finger nails at twilight (neither day nor night). To make Prahladan happy, Lord Narasimha gave his seva for 1 Kadigai in Yoga Nilai. Kadigai represents the fraction of time. Some have interpreted it as 24 minutes.
Following the footsteps Prahaladan, the Saptha rishis (7 great sages- Vasistha, Bharadvaja, Jamadagni, Gautama, Atri, Visvamitra, and Agastya) also undertook penance here wanting a darshan of the Lord. Within 1 Kadigai, Lord Narasimha gave his seva to the Saptha Rishis. Since the Lord gave his seva to the rishis within a kadigai, this sthalam (location) came to be known as "Gadikachalam" and is also called "Thirukkadigai". It is also believed that Sage Visvamithra meditated here for a Kadigai and obtained the Brahma Rishi title. It is said that even if we stay for just 1 Kadigai in this sthalam, we will get Moksham. It is also believed that worshipping at this temple would relieve the devotees from various ailments, especially those who suffer from mental illness and evil spirits. That is the kind of power, this Kshetram has got. Gadikachala Kshetra Mahatmiyam is described in Brahma Kaivartha Purana.